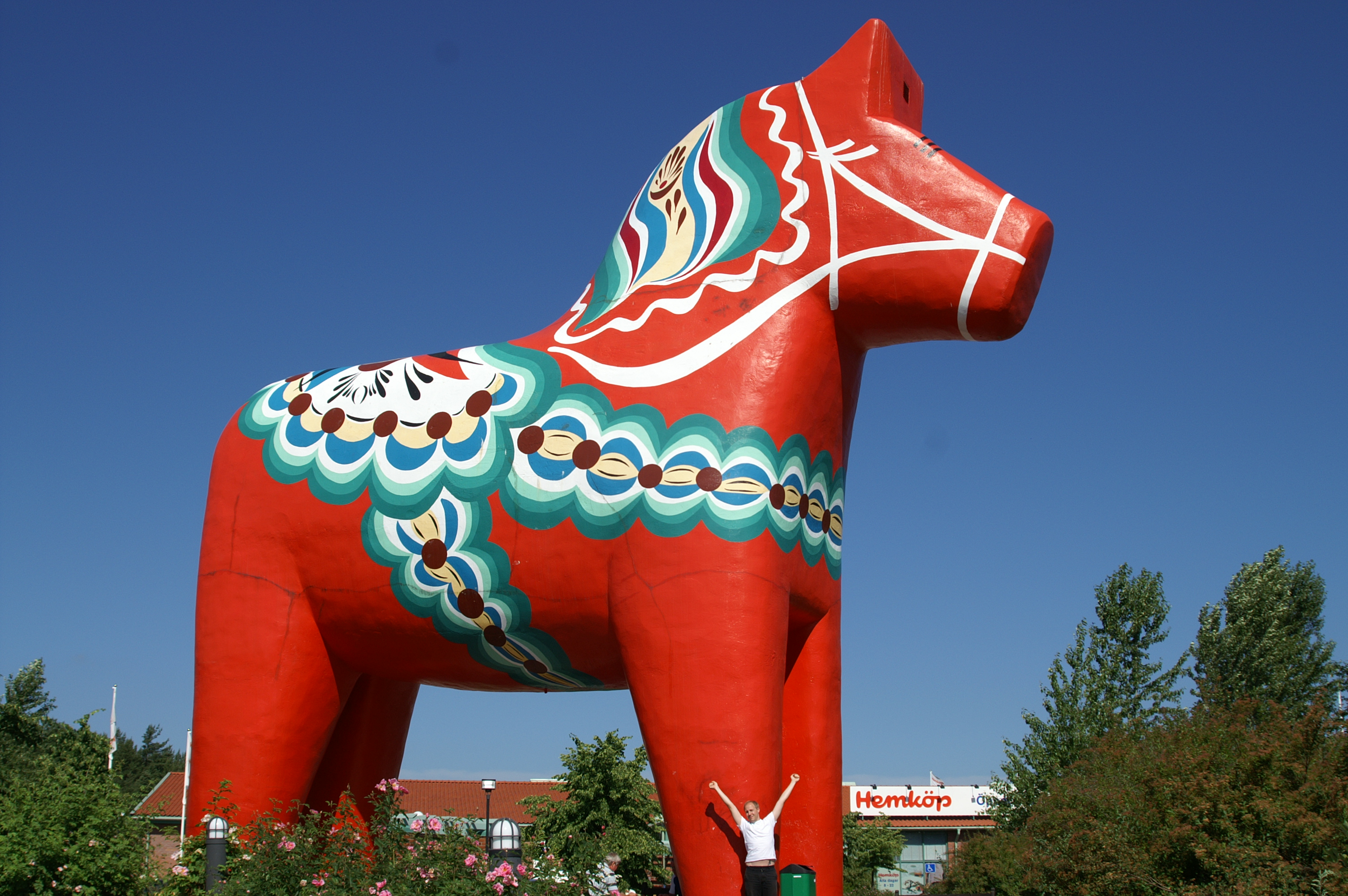 This time last year, I visited the American Swedish Institute in Minneapolis, a real treat in December as the historic Turnblad Mansion is decorated as if you'd dropped by for a Christmas party in the 1800's.  My Nordic roots got the best of me at the sight of a coin-operated Dala horse kiddie ride.  It took all the self-restraint I had not to investigate if there was a posted weight limit.
If you didn't grow up around Dalecarlian (or Dala) horses, they are a traditional Swedish toy dating back to the 1600's.  Originally a way to pass time around the fire, using pine scraps from the logging and carving industries so prevalent in Sweden, carving these horses slowly became a means of supporting households.  After some time, the carvings began to be painted solid white or red, eventually gaining their beautiful "rippled" decorations as yet another way to make the toys profitable.  Exposition at the 1937 World's Expo in Paris and the 1939 World's Fair in New York would blow the lid off this little industry, making the Dala horse a worldwide recognizable symbol of Sweden.
A little video of them being produced right here in the states (note the two paint colors on the ends of her paint brushes):
In a world full of plastic and battery operated toys, Dala horses make wonderful gifts for children.  Each one is still handmade and hand painted.  Its traditional pattern, which employs flat-plane style carving, has a wonderful feeling as you turn it over in your hands.  Best of all though, a Dala horse will be loved more and more as the years go by.  Each year, pulling the Dala out of the decoration bin, a child, regardless of age, will be delighted to see their toy again.  Eventually the horse, like its owner, may show a little age, a sign of so many years together.  And one day, the child will bring their Dala out of its bin, introducing it to their own child and watching another pair of eyes light up.
You might think after that sickly sweet visage that I have stock in a Dala factory, but in fact I have benefited from "toys" that my grandmother gifted me every year, which still to this day give me delight.  Mine cannot be stroked and played with, as they are made of ceramic, but long after my grandmother is here to remind me the proper usage of the words "lie and lay," or tell stories of her Vicksburg youth, I have my figurines to remind me of all the years we spent the holidays together.
So this year, consider gifting the tots in your life with this unique treasure, available here, here and for Minneapolis residents, here.  Tell me in the comments: do you have a childhood toy you still light up around?  Any other Dala lovers out there?
Photo of the world's largest Dala Horse, near Avesta, credit: Angelica Brockne.