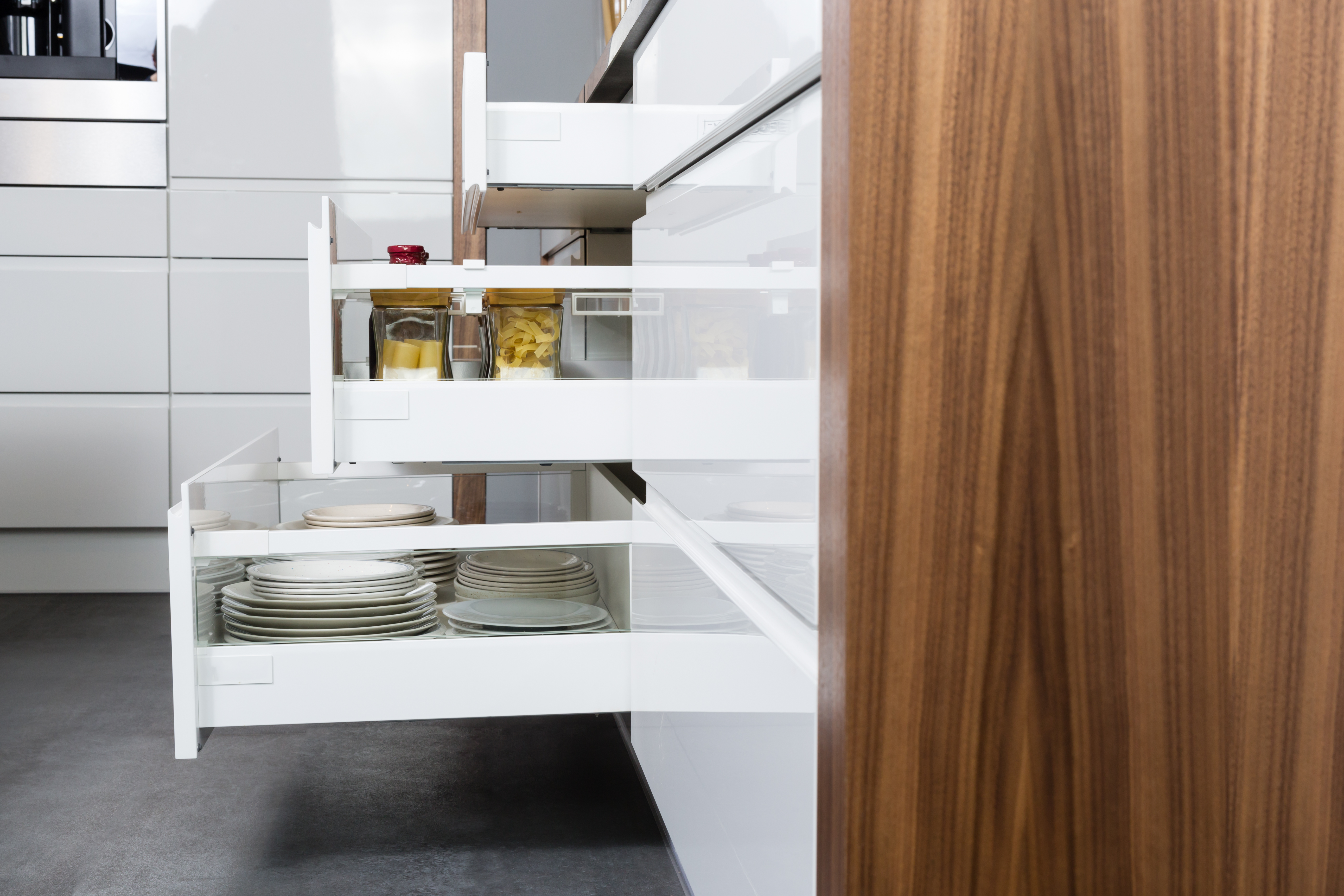 One of the first projects I sold after going to work for a custom woodworking factory was a kitchen extension I'd sold to a family in Miami Beach. Our clients thoroughly used their kitchen and were in desperate need of more organized storage. The old school cabinet maker assigned to my project was flabbergasted at all the hardware that arrived at his station, and snarkily asked whether there would be any "plain old shelves" at all in this kitchen. "Almost none," I replied, stony faced.
For just about any item found in a kitchen, there is a corresponding piece of hardware to organize it.  Some are real time savers and worth every dollar.  Others, like an ironing board that folds up into a drawer, are garbage.  These upgrades can increase your cabinetry budget by 50% before you blink twice, so today I'll break down the five essential organizational upgrades for a happy kitchen.
1, Drawers, Drawers and More Drawers
There is almost no such thing as too many drawers.  If you're building a new kitchen, you should include as many drawers as you can, of varying heights and widths. If you're adding functionality to an existing kitchen, remember that drawers can be installed behind doors – many people call these rollouts, which are just drawers without a decorative face.
What can you store in drawers? Everything except glassware and the mixmaster. Today's standard drawer slides hold about 120 pounds of weight, but if you plan to stack china, pots and pans, or anything weighty in your drawer, advise the dealer and they can upgrade your slides to a 220-pound capacity.
2, Lazy and Le Mans Susans
With the exception of galley layouts, every kitchen has at least one corner to contend with. Your kitchen designer can help you evaluate whether your space is better suited to pie corner cabinets or blind corner cabinets.
A pie corner is the sort of corner in which we usually picture a lazy susan.  Lazy susans have come a long way, and today they are storage workhorses, easily handling the heaviest, bulkiest items you've got.  Unfortunately, not every kitchen has the spatial requirements of a pie corner.
Blind corners are those cabinets that disappear into a void. We stash holiday dishes and ugly vases in the void, and twice a year crawl halfway into the cabinet to retrieve them. Luckily, German engineers have spent the past decade reworking how we think of blind corners, and today I almost prefer the resulting Le Mans susan to a standard lazy susan. Check out my IG feed for a video of me playing Vanna White with a Le Mans.
3, Spice Dividers
I swear to you, I make a conscious effort to avoid buying spices, but it's like they follow me home from the grocery store.  My spice habit is further fueled by the Penzey's catalog, where you can take a world tour of cinnamon and suddenly realize how bleak your life was before you owned at least four varieties.
Yes, we have spice stands, carousels and racks, but have you encountered the spice drawer yet?  Oh, you will never love your spices more than when you pull your drawer open and see their labels beaming up at you, squealing "try me tonight, I'm versatile!"  The best news is, this is a super cost-effective upgrade, leaving plenty of budget left over for the final two must-haves.
4, Tray Dividers
Some kitchens end up with strange little 9 or 12-inch wide base cabinets, which make natural cubbies for cutting boards, cookie sheets, broiler pans and serving trays.  For kitchens without those natural crevices, I frequently use the cabinet space over a wall oven, pantry or refrigerator, which tend to be 24-inches deep and just reachable.  Remove their horizontal shelves, install tray racks, and away you go.
5, Pullout Waste Bins
A word of warning here, there are some flimsy pullout trash bins on the market today which will induce fits of rage for even the most patient home chef.  This is one item you want to choose carefully.
Pullout waste bins come in many different arrangements – between one and four bins available, with different types of slides, bin sizes and features.  Some are available with little bins for your compost, others with foot pedals so you don't have to touch the cabinet door to open them.  Some have built-in lids so smells are contained, and others have a spot to stash extra trash bags.  Again, your kitchen designer can likely steer you to the right model for your needs and space available.
These are the five upgrades at the top of almost every list of suggestions I give my clients.  They are value packed, and make working in your kitchen that much more enjoyable.  Which organizational kitchen upgrades are your favorite?  What do you think should have made the list?