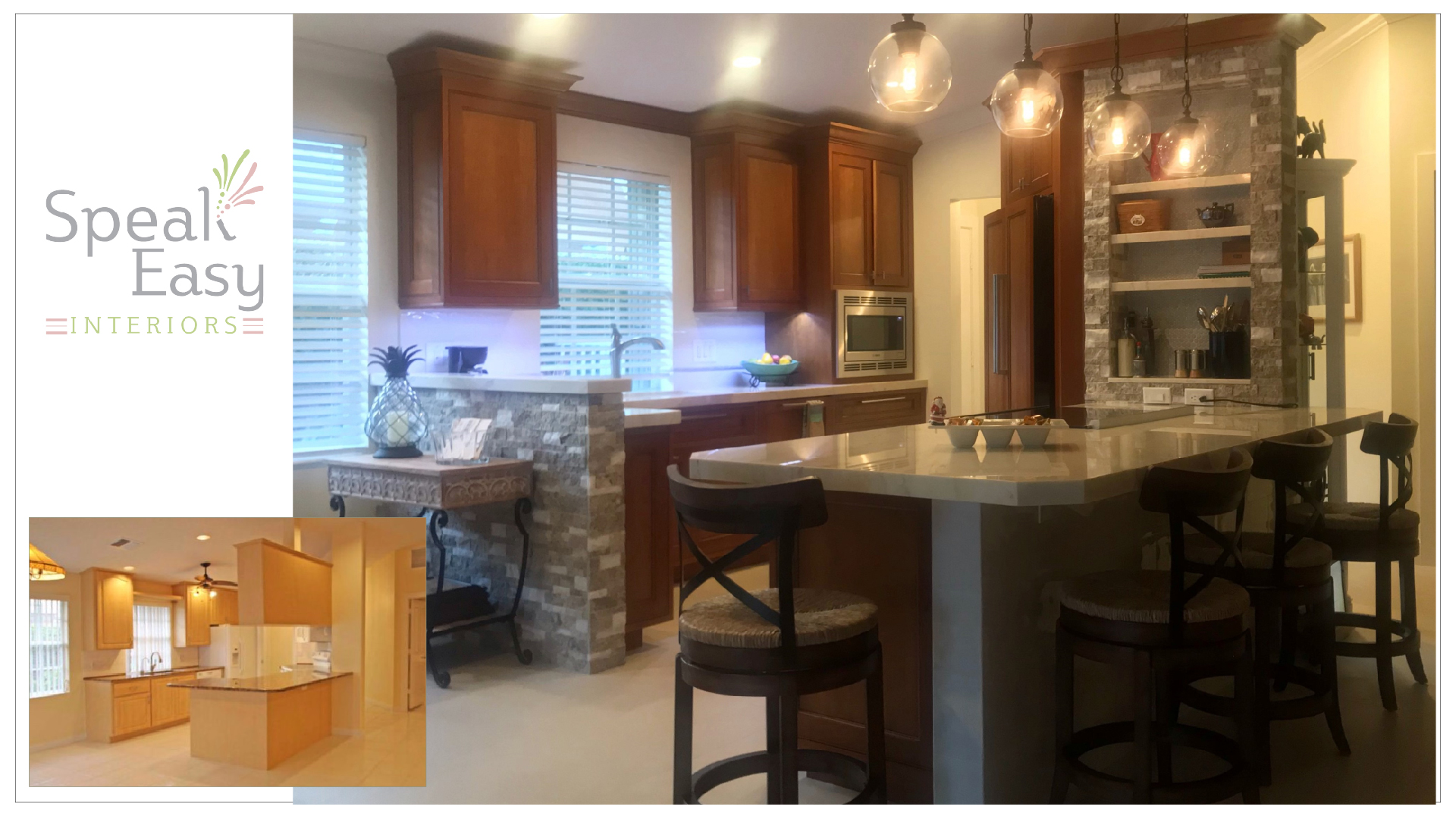 There's nothing I enjoy more than taking a room devoid of personality and infusing it with character.  We've all seen kitchens like this one in Jupiter's Indian Creek: simple Maple cabinets, granite countertops, white appliances.  Nothing to hate, but then nothing to love either.
More challenging was the layout of this kitchen.  Our clients D&T requested two major improvements:
Open the kitchen up to the rest of the living space.
Increase its storage capacity.  (So you know, the exact opposite of number 1.)
Not the easiest ask, but we devised three possible layouts, each with their own pros and cons.  After doing some rough layouts with painters tape, magic marker and half a gallon of green tea, a hybrid plan emerged as the clients' favorite.  Drawings in hand, we planned one of my all-time favorite activities – an afternoon of granite shopping.
If you've never been to a granite yard, you really should add it to your bucket list; they are God's art galleries.  On this trip we happened upon some beautifully marbled dolomite, which the clients returned to see a few more times before agreeing it was the one.
Dolomite, a heat-resistant type of limestone, is harder than most marbles but still as porous, so it probably won't  scratch but does need periodic sealing.  Like any material with a marbled pattern, dolomite's impact is maximized when installed like a thick baker's slab. Good countertop fabricators can make 3/4″ slabs of stone appear any thickness you'd like using a mitered edge profile. In this kitchen we opted for a 2-inch profile to command attention and set off the other finishes.  In isolation these counters would be lustrous and formal, but balanced against rustic ledgestone they are instead warm and classic.  Contrast is a magical thing.
Split-face ledgestone became our wall surface in two areas.  One of those areas is the home of a large cooking niche, a feature I include in as many kitchen plans as I can.  Most clients' niches house their oils, pepper mills, utensils and such, but this niche is big enough for teapots, pitchers and cookbooks as well.
D&T's new kitchen has no shortage of personality, but not that of its designer.  No, its personality is derived from the clients themselves.  Like the combination of old and new in this design, D&T enjoy making, crafting and building almost as much as Face Timing with their nieces in North Carolina.  Just as we layered texture upon texture in this design, D&T's calendars reflect a host of interests: a night at the theater might be sandwiched between a camping expedition and morning of fishing. When your clients are your muses, every choice you make reflects their style, and it follows that every design will be the first of its kind.
Does your kitchen reflect your personality?  How have you made it your own?