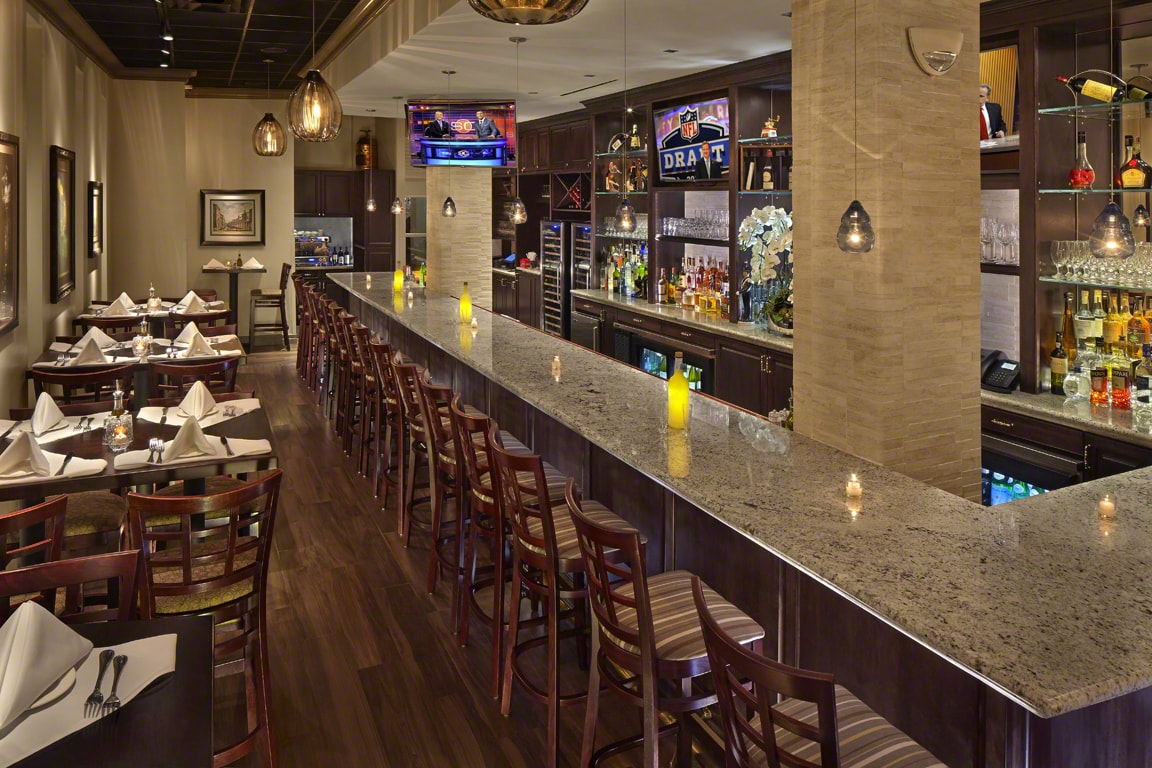 *Three Year Update*
It has been three years since Limoncello moved into their new space, and a lot has happened!
Two years ago we added another dining room because their bookings just keep coming.  It is available for private functions as well.
We learned the lesson of acoustics in a dining room whose walls are 90% window, and installed endless baffles to address the problem.  Most of them blend in like big chameleons, but trust me when I tell you, they're everywhere.
The owners opened yet another restaurant in the Limoncello's original location, just one block north.
One of their most trusted waitresses, Barbara, was promoted to manager.  Having no Italian heritage whatsoever and basing this entirely on stereotypes I probably encountered in movies, I can definitively say that Barbara is to the restaurant what an Italian mother is to her household
The family patriarch, Mario, originally from Bologna and one of the world's best storytellers, sadly passed away just after returning home from his yearly trip to Italy.  Over the course of four projects with this family, I really came to love Mario, and I know how proud he was of his sons' success in carrying his legacy into the next generation.  His picture continues to hang throughout the restaurant, and a few lions (his favorite) watch over the restaurant, just as he did up until his very last day.
Coming very soon, a custom corner banquette with seating for 6, in the front of the restaurant underneath our collection of Murano glass pendants!  It's going to be goooorgeous.
---
Limoncello Ristorante,  a North Palm Beach restaurant run by a Bolognese man and his two sons, outgrew their 150 seat restaurant and made plans to relocate one block south.  Their restaurant, famous for the kind of food and hospitality that perhaps only Italians can deliver, had a challenge on their hands.  During what can only be described as the most delicious discovery phase of my career, I spent several nights dining at their bar, striking up conversation with its fiercely devoted clientele, digging into their many fears about our relocation plans.  Many were concerned that Limoncello would lose its intimacy, that it would feel like any other chain Italian restaurant, or that they would no longer feel at home in a new space.  At the same time, the restaurant's owners were intent on achieving a more modern aesthetic.  Thus began a project in which I entirely wore out the word "balance."
Achieving that balance was a methodical, intense exercise.  Modern hand-blown Italian light fixtures are peppered throughout what is otherwise a traditionally detailed space, with its large crown molding, rich wood-look floors and warm color scheme.  The wall separating a dine-in bar from the traditional dining room is pierced with contemporary trimless windows, but artwork featured between them is traditional and familiar.  Everywhere your eye rests, traditional is balanced against modern.
One of the most wonderful things about working on this space was the immense potential for storytelling.  The family has a rich history, with several successful restaurants under their belts, an extraordinary list of devoted patrons, in addition to their roots in Northern Italy.  The original owner, Mario, now in his eighties, holds court every evening in the center of the dining room, at an antipasta station and prosciutto slicer. Mario frequently abandons his station, however, to enjoy a glass of wine with the clientele, regaling them with stories and boisterous opinion on any manner of things, but not infrequently resting on the topics of golf and food.
The dining room also features Mario's grandmothers' copper pots, hand painted ceramic dishes he and his wife Alice immigrated with, photos and sketches of the Bolognese towers, and framed menus from his famed Long Island restaurants, Capriccio and Papagallo.  The décor tells the family's story, whether or not their master storyteller is there to personally weave a tale for you.
I'm happy to report that after moving into their space, Limoncello's popularity soared and only two years later, we are working on expansion plans.  Stay tuned for details… !