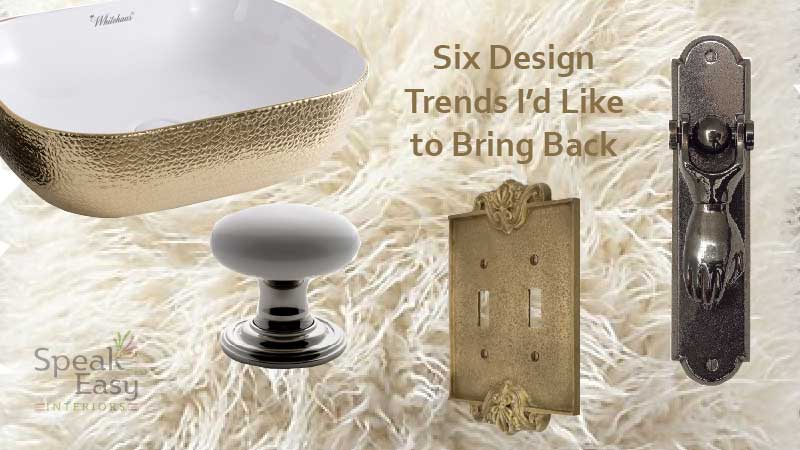 I still remember the first time a tile retailer showed me a series of wood-look porcelain tile, assuring me it was bound to be the next interior design trend.  I scoffed, unconvinced.  Fast forward a handful of years and I use the stuff on almost every project I undertake.
Buying trendy clothing is one thing.  Next summer you can simply send all your off-the-shoulder blouses to Goodwill.  Trends in interior finishes is quite another thing.  Nobody with an ounce of sanity replaces their flooring, kitchen appliances or bathroom vanities as soon as the magazines and blogs shout "rose gold is the new polished nickel!" from their soap boxes.
We know interior design trends come and go, sometimes for good reason and others because manufacturers conspire to date our homes. Call me a nostalgic ninny, but I think we may have kissed a few trends goodbye too soon.
Shall We Shag Now or Shall We Shag Later
When I was in grade school I shared a bedroom with my sister. It was a well-appointed room, with bunk beds, jungle wallpaper and green shag carpeting. I was oblivious to the fact that shag carpeting was passe by the early 80's, and a dead giveaway that your parents could be hippies. Still, that carpet was good for the imagination.
Believe it or not, shag rugs date back to 5th century A.D., when Greek shepherds produced wool blankets and rugs, known as Flokati, as a primitive side hustle. With the mass popularization of wall-to-wall carpeting in the 1950s, Flokati design was incorporated into product lines and quickly gained traction.  Shag carpeting became synonymous with bad haircuts and ridiculous jeans throughout the 60s and 70s, but by the 80s their biggest flaw had been realized – the more shagadelic a carpet, the less chance you had of ever getting it clean.
Maybe it was all my early days on green shag, or just the whimsical nature of the stuff, but I can't help but to love the feeling of a sheepdog underfoot.  Sadly, for all our advances in textile design, we continue to wait for someone to invent cleanable shag, and not for lack of trying. Take it from this professional cleaners' diatribe on the topic.
Until Dyson gets their act together and fixes this crisis once and for all, I may have to settle with a few shaggy throw pillows.  Wouldn't you know it, Anthropologie and Restoration Hardware are happy to oblige.
SWITCH IT UP
Victorian design is just not my thing. I have a healthy respect for its complexities, but I don't feel at home with all the fussiness and extravagance.  Except for this one thing – decorative switch plates.  Sure, they're overkill.  Yeah, a little over the top.  And fabulous, darnit.
OH MY, WHAT LARGE MOULDING YOU HAVE
I had the great fortune of living in a restored lumber baron's home in Eau Claire, Wisconsin for a year or two in my younger, unappreciative days. The house had some of the most beautiful Oak mouldings I have ever seen, and to this day, I have yet to see a contemporary architect or interior designer install molding packages quite as beautiful.
One of my most commonly thumbed through books is a vintage millwork catalog from the now shuttered E.L. Roberts & Co, originally published in 1988. The catalog rarely suggests subtlety in moulding shape or size. This is a philosophy I hold fairly dear, that regardless of shape, oversized moulding always creates drama when drama is needed.  If you're looking for permission to spring for a large crown or baseboard profile, you're likely me agreeable.
FLEETING BEAUTY
Between 1920 and 1970, there were a host of companies manufacturing collections of toilets, sinks and bathtubs in the colors of the given decade, ranging from avocado green to rose and a particularly offensive orange. Marketed as beautyware, these porcelain suites were popular for about 50 years.  I've crossed paths with a wide assortment of the collections, all of which were promptly condemned to the nearest dump. There is something innately off-putting about a green bathtub or baby blue toilet, but I have always been rather fond of the sinks that accompanied them.
Today we've abandoned the term beautyware, and along with it the collections of colored porcelain.  Not to fear though, there's a world of personality-plus bathroom sinks available.  Admittedly not every bathroom is right for this approach, but if yours could use a touch of character, I think these are beautiful… and unlike their beautyware predecessors, timeless.
SPEAKING OF PORCELAIN
Porcelain door knobs, popularized in the 1920s, are a striking combination of materials. For the life of me, I can't understand why we haven't seen a resurgence of these designs, especially since porcelain handles are increasingly common in plumbing fixtures.
Today there are only a handful of companies combining porcelain and metallic finishes on door hardware, but originals are easy enough to find in your architectural salvage yard. Although white porcelain dominates the stock, there are a few treasures such as black and brown out there. Of course their locking mechanisms are significantly outdated, so for any doors requiring security, you may need to strike a balance and buy from the few companies offering replications.
DON'T COME A-KNOCKIN
While we're on the topic of doors, I have a little obsession with fabulous door knockers. Given the choice of a doorbell or door knocker, I'll reach for the knocker every time.  If having a gorgeous entry is important to you, give a little consideration to a fabulous knocker.
Friends, if I've proven nothing else today, I hope I've given you permission to buck the interior design trend reports in favor of a little historical character.  Now you'll have to excuse me; I have a shaggy pillow to purchase.